With or without an operator, SOFTBEC offers turnkey weighing solutions adapted to the reality of companies working in the construction industry.
Improve the profitability of your truck scales
If you are in the construction industry and have a truck scale, having OTO Nom-i is a must have!
OTO Nom-i is much more than an easy-to-use ERP/CRM application. It is a specialized application for companies which base their business activities on the use of a truck scale. Since , all the functionalities have been studied and optimized in order to reduce your operating costs and maximize your income.
Eliminate congestion on your truck scale. Thanks to intuitive ergonomics, it only takes a few clicks to complete, weigh, print and invoice your weighing transactions. Simply select the truck, or the contract, the system will automatically fill in all the information of your ticket. You just have to capture the weight and it's done.
Here's a simplified list of included features
Sequential interface on "TouchScreen"
The interface of the OTO Nom-i software can be reorganized so as to offer your operators and / or your drivers the possibility of following a predefined filling sequence on a touch screen.
This same technology is used, and could be used, in unmanned weighing systems.
Photo capture during weight captures
For each weight capture, OTO Nom-i can take a photo of the truck and its contents in order to support administrative decisions regarding invoicing.
When the truck passes the scale, a photo capture of the plate will allow automatic recognition of the vehicle. If the vehicle exists, a blank transaction will be automatically pre-filled, otherwise a new truck file will be proposed.
100% automated truck scale
With OTO Nom-i, it is possible to operate 24/7 without an operator. Replace your operator with detection loops, signal lights, access barriers and a « TouchScreen » interface to allow drivers to enter their ticket information. Cameras can capture a photo of the truck and its contents for verification and quality assurance audits.
Electronic payment to the balance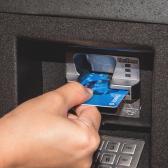 To learn more about our products and services, contact a SOFTBEC member now.
One number for everything Canada and the United States
Monday to Friday, 8 a.m. to 5 p.m. ET
except Quebec statutory holidays