Recycling and residual materials
From planning to the collection, transformation and recovery of recyclable materials and the landfill of residual materials, SOFTBEC offers you a range of products and services specialized in the good management of your business.
Our solutions allow you to manage all facets of your business to ensure planning and exemplary traceability that meet the standards and requirements of the various Ministries of the Environment.
A solution adapted to eco-centers
From reception to the disposal of materials, OTO Nom-i offers several modules adapted to sorting and recycling centers in Quebec. Its features will allow you to follow and manage all the processes necessary for the proper transformation of recyclable materials.

It doesn't matter who takes the order, or who will transport the goods, the container rentals module will give you the right facts about the planning, execution and monitoring of your rentals. The idea is to keep tight control over the merchandise borrowed from your customers, without risking losing it the day your dispatcher falls ill or decides to join the competition.
2. Planning of collections
Forgetting and poor communication are no longer options. Thanks to the route planner, the truck driver will have to follow a detailed road layout to meet the requirements pre-established by your company and those of your customers. By combining web services with cellular telephony, the truck driver will have the update alerts directly on his laptop.
3. Supervision of truckers
Without having to disturb the road safety of his truckers, the dispatcher will be able to see in real time the position, speed and direction of vehicles on a geographical map. Thus, he can make informed decisions about the tasks to be assigned immediately.
4. Weighing of raw materials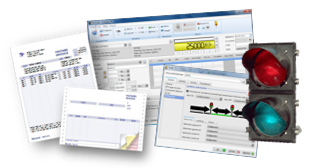 By having a truck scale and / or a floor scale certified legal in the trade, you will be able to support your invoice by delivery notes based on the weight of the goods traded. Weighing operations can be completed with or without an operator, depending on the needs of your business, and can be linked to container rentals for increased traceability.
5. Inventory transformation
The recycling process often requires sorting and processing the mixed materials into purer products. With simple clicks, you can adjust your stock in order to accurately quantify your inventory and define the losses incurred in the transformation process.
6. The arrangement of materials
By considering a continuously updated inventory, you are able to plan the disposal of materials at all times. Simply and efficiently, assign the assigned transactions to a place of disposal and voila. You now have all the traceability required to generate comprehensive reports on your transformation process.